The majority of women who wax regularly find it worthwhile as they have a fuss-free, low-maintenance biking line throughout the summer. What does not hurt about waxing is being equipped with some knowledge before you show up for your appointment. Thus, if you are planning to take the plunge, below are some steps to prepare for the big event.
Grow Up your Hair First
In general, hair must be about a quarter-inch long to be effectively grabbed by the wax and removed. Thus, you must let your hair grow for at least one week before waxing. You may need a wait a bit longer if your hair is fine or grows slowly.
Get the Area Ready
When preparing for your first bikini wax, use an exfoliating scrub the day before the wax to slough off any dead skin cells. Avoid applying lotion, creams, astringents, or oils to the biking are on the day of the wax. With moisturizers, the wax won't be able to adhere to the hair correctly. Also, astringents can tighten the pores and increases your pain.
Take a Pain Reliever
Because there is pain associated with waxing, save yourself from the discomfort by taking a pain reliever of your choice. Choose something that can make your skin less inflamed. Pain is especially possible if it is your first time getting a wax. But, the pain will only last for the duration of your wax.
Exfoliate Before the Appointment
Use a sugar scrub to remove dead skin cells. Exfoliation ensures clean wax and fewer ingrown hairs. If your skin fails to shield on its own, hairs can be trapped underneath. This results in less effective wax. But, do not exfoliate 2-3 weeks after your bikini wax in the area because this can irritate the skin.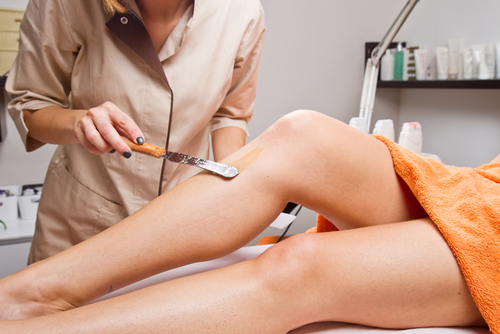 Wear Loose, Comfortable Clothing to your Appointment
Never show up for your bikini wax wearing tight bottoms like a pair of skinny jeans. You need to wear loose-fitting bottoms after your wax like a dress or a pair of linen pants. You can even forgo underwear after the treatment if you are comfortable with it. If not, just wear soft, comfortable undies.
Keep Yourself Hydrated
As you go in for a bikini wax, make sure to consume lots of water. Staying hydrated can make the waxing process a bit less painful. Focus on consuming at least 64 ounces the day before and the day of your appointment.