After a long, tiring day at work, what could possibly be more relaxing than a hot bath? Let's agree that not many people can go for spa sessions every other week, but that shouldn't stop you from pampering your skin! One of the must-have products in your beauty stash is a natural handmade soap. For the longest time, big companies tricked people into believing that soaps are not good for the skin – They should go for shower gels instead. There is, however, some truth to that – Yes, most standard soap bars in the market are probably full of chemicals.
However, many brands are now coming up with bath soaps and essentials which are made of all-natural ingredients. These are incredibly great for skin problems and are designed for a specific use. Handmade soaps are specially made with extreme care.
Potent natural ingredients in a bar
It must be noted that not all soap and bath products are created equal. Some products claim to be natural, but only have traces of natural ingredients. The first step is to find a brand that uses potent natural ingredients for its handmade soap bars and other bath products. The best brands make it a point to inform customers about the use, effectiveness of each ingredient, and how a certain natural formulation can benefit the skin. Look for natural brands that create bath soaps free of toxins. Used regularly, these bath soaps can do all that you expect from luxury brands – gentle exfoliation, skin-pampering and moisturization without any toxic chemicals.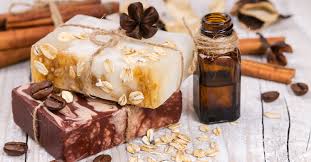 Tips on buying the best bath soaps
"Natural" means natural. Always check the ingredient list of a bath soap before you buy one. Check how each of the ingredients is supposed to work. For example, Ubtan bath soap is ideal for glowing skin, but something like a beetroot treatment soap is designed for repairing ageing or wrinkled skin. Secondly, check the brand and what they stand for. Natural brands may have bath soaps that cost more than your average skincare brand, but that price is worth paying. Today, new & upcoming natural brands are being preferred by many estheticians and beauticians since their skincare products and bath soaps are gentler on the skin.
Finally, do try different variants. The beauty of natural & handmade bath soaps lies in variety, and there are just too many choices and variants to pick from.